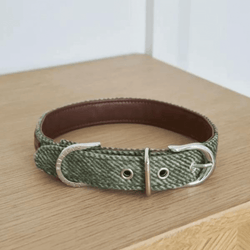 Green Tweed Dog Collar
These beautiful tweed collars will ensure your dog is the smartest pup on their daily walk. Stylish and practical the collar features a vegan leather lining, a Sweet William D ring to attach the lead to and a separate loop for your dog's ID tag.
Style with our matching leads, dog bone toys and poo bag holders for ultimate impact.
Available in three sizes. To ensure you choose the correct size for your dog, measure their neck allowing enough space for two fingers to fit comfortably underneath. 
Small: L27 - 37cm x W:2cm (overall length 46cm)
Medium: L:36cm - 47cm x W2.5cm (overall length 56cm)
Large: L42cm - 52cm x W2.5cm (overall length 61cm)