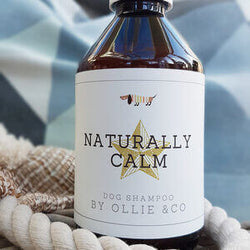 Naturally Calm Dog Shampoo with Lavender & Camomile
Naturally Calming Lavender Dog Shampoo with Aloe Vera.
Lavender is well known for its relaxing and calming properties which can help to calm stressed and anxious dogs. Handmade with intense botanical conditioning extracts for mild cleansing with added Aloe Vera for promoting and maintaining skin and coat health.
- Organic Aloe Vera for skin conditioning Chamomile Extract for sensitive skin
- Vitamin C, E to help protect the skin and coat from environmental stressors
- Vitamin C to support skin health
- Lavender's therapeutic aroma naturally soothes and calms any nervous tension whilst acting as a natural bug and flea repellent
- Chamomile promotes calming and anti-bacterial properties fighting skin inflammation and aiding the healing of minor scrapes and cuts
- Vitamin B3, B6 is essential for energising skin cells and promoting healthy coat & skin growth
Directions: Wet the coat with warm water then either apply the formulation directly to the coat and gently massage to develop a lather followed by rinsing away with warm water. After rinsing towel dry the dogs coat and leave to fully dry.
Free From animal derived ingredients/ vegetarian/ vegan friendly/ Free from sulphates (SLES & SLS) synthetic colours/ alcohol/ silicone/ parabens/ fragrance free/ colour free/ Cruelty free Tested on Humans
100% recyclable plastic bottle (not pump)
Our products contain cosmetic grade ingredients and cosmetic grade ingredients are not allowed under the regulation to be tested on animals since March 2013
Made in the UK - 250ml