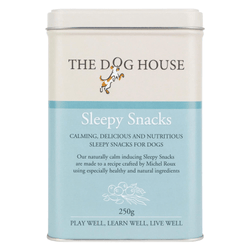 Sleepy Snacks Tin 250g
From a recipe crafted by Michel Roux, our calming Sleepy Snacks contain Flaxseed, Camomile and Pumpkin seed (an effective source of tryptophan, encouraging the synthesis of serotonin and melatonin).
We've combined these ingredients with the flavours and health-giving properties of Cranberries, Seaweed, Probiotics, Spinach and Green Tea extract; creating biscuits that are not only delicious, but also very nutritious.
Made using only the highest quality natural ingredients
No added artificial colourants
No added artificial preservatives
Formulated without wheat and gluten
Added probiotic to aid in the establishment, maintenance and restoration of a balanced gut flora in dogs
Complementary Pet Food. Keep dry and cool.